Frequently Asked Questions
Click on the various items below to find the answers to our most popular questions. If you still have a question, contact us at hello@citizenpilates.com
Waitlist
01 PICK YOUR CLASS
From our Citizen Pilates app, select 'Book', then tap 'Waitlist' for the class you'd like to take. This class must be AT LEAST more than 12 hours in the future. 
02 GET IN LINE
You've been waitlisted!  When a spot becomes available, you'll be notified via text – you must be opted in to accept notifications. This auto-notification will arrive at least 12 hours before any class starts. 
03 MANAGE YOUR WAITLISTS
Your Home screen will display your place in line for a class.  If you change your mind, you must remove yourself from the waitlist.  Tap 'Pending' to give up your spot in line. If not, we'll continue to hold a spot for you.  You are responsible for managing multiple, same-day waitlist requests and run the risk of reserving multiple classes. 
04 REPLY TO YOUR REQUEST
Great news! You've been added to class! Please respond 'Y or N' to your text message confirmation as soon as it's received.  If you DO NOT respond, your reformer remains reserved in your name and is subject to our 12-hour cancelation policy. 
Early Cancellation
EARLY CANCEL occurs when a class is cancelled or rescheduled outside of 12 hours of class start time.  There are no charges for an early cancel and no limit to the number of times you may cancel or reschedule classes.  You have full control!
Late Cancellation
LATE CANCEL occurs when a class is cancelled or rescheduled within 12 hours of class start time.  For legacy monthly, semi-annual, or annual unlimited memberships, late cancellations will be charged a $15 fee.
$15 No-show fees
NO-SHOWS will be charged a $15 fee for each occurrence plus forfeit their class.  If you cannot attend class, you must late-cancel your reservation.  Failure to late cancel your reservation will prompt and automatic $15 no-show fee to your account.
Canceling Auto-Pay
We require at least 30 days notice prior to your next billing date in order to cancel or suspend a monthly plan.  For example, if your billing date is the 1st of each month and you'd like to cancel or suspend by March 1st, your online request must be submitted no later than February 1st.  Requests submitted less than 30 days prior to the next billing date will not be honored for the following billing cycle.  NO EXCEPTIONS. 

You are responsible for canceling all previously-scheduled classes that occur after your scheduled cancellation or suspension date.

You may not keep future scheduled classes during a suspension of your membership.

There is no fee for canceling or suspending a monthly plan or for re-joining after a monthly plan has been canceled or suspended. 

Monthly membership plan cancellations and suspensions must be submitted using the form, CLICK HERE.
What is Pilates Reformer?
The Pilates reformer utilizes spring controlled resistance to build core strength, increase flexibility and endurance. The result is a strong, well-toned body without muscle bulk. 
Is there a Weight Limit?
Our reformers are custom made in California from maple wood and can comfortably accommodate clients up to 350 pounds. 
When Are You Open?
7 days a week!  We have over 120 class times for you to choose from at two locations in Houston, Texas!
How Do I Book?
Book instantly from our online schedule or directly from your phone with our Citizen Pilates app. Sign up, pick your class and even pay directly from the app!  It's so simple. And don't be afraid of our waitlist. It's a glorious thing.
Guys Too?
Most definitely.  Challenge your preconceptions.  You'll be glad you did!
What Are Sticky Socks?
Sticky socks have grips on the bottom to prevent slipping and keep your soles free from germs. They promote cleanliness on our equipment, proper circulation of your feet and more confidence on your reformer. Bring your own or buy some of ours. 
What Do I Wear?
Gals: Stretchy bottoms and a top that allows for full range of movement. 
Guys: Gym shorts and a t-shirt.

Dressing rooms available.
I'm New To Pilates
Don't be shy.  Our classes are small and allow for personal attention throughout the session.  Your instructor will make individual modifications for flexibility, injuries and/or overall strength.   Also, come 10 minutes early and we'll personally introduce you to the machine.  It's not scary!
Is There Parking?
Plenty. Our parking lots are just outside the front doors of each studio and are well lit. If you're the cycling type, bring your lock… we've got a sweet rack just for you. PLUS! You'll earn 4 additional Citizen Rewards points.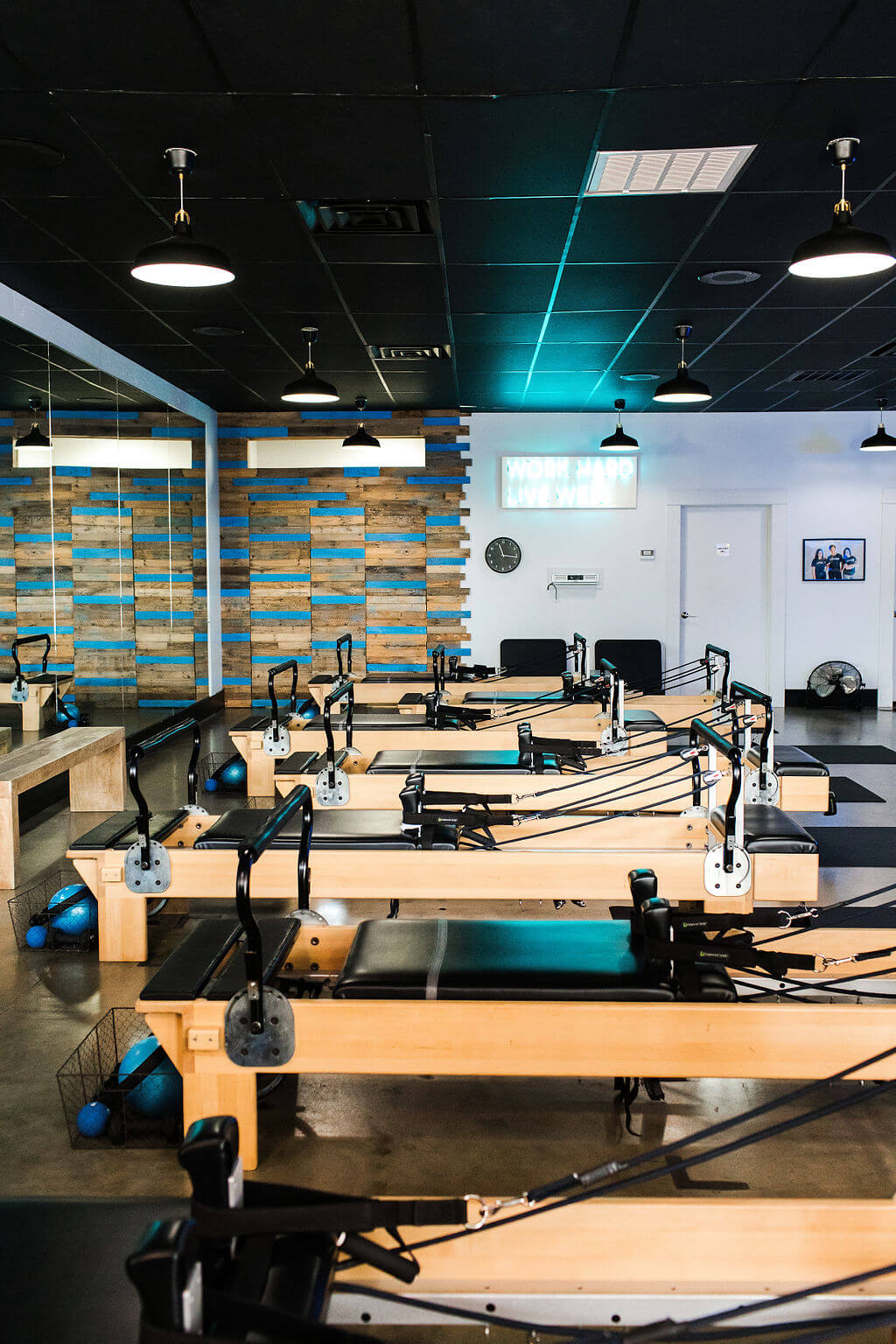 MANAGE YOUR ACCOUNT ON THE GO WITH OUR CITIZEN PILATES APP